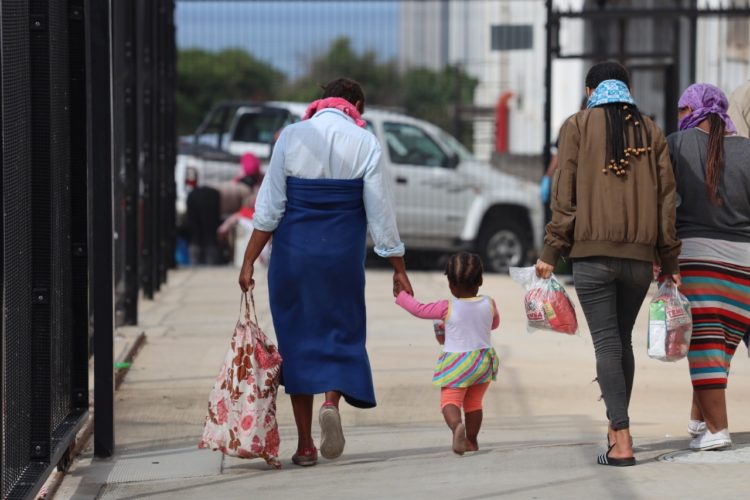 FAITH CARES SUPPLYING MUCH NEEDED AID TO EAST LONDON'S MOST VULNERABLE
[EAST LONDON, SOUTH AFRICA, 12 May 2020]
Faith Cares, the humanitarian aid division of Faith TV, has been serving the most vulnerable in society for nearly two decades. Food parcels, clothing, basic daily necessities, as well as furniture (when available) are all distributed to those in need.
COVID-19 has had a tremendous effect on the community at large. Not only are the unemployed struggling to keep head above water, but many individuals who earned an income prior to the lockdown, are now without income and in need of assistance.
Faith Cares conducted a distribution of food parcels on 7 April 2020, serving hundreds of families with nutritious food items. Following the success of that day, Faith Cares immediately began preparations to distribute even more food parcels. Following meetings with BCMM representatives, Faith Cares was given approval and issued the necessary permits, to distribute food parcels from their head office in the CBD.
On Tuesday, 12 May, Faith Cares, with the assistance of BCCM's Security Cluster, comprising of members of BCMM Law Enforcement, BCMM Traffic Services, as well as the South African Police Service, were able to hand out food parcels to hundreds of families yet again. There was a collective adherence to the Lockdown Regulations Framework, by the entire food parcels distribution team.
On the day, Ps Carl & Ronel Davis, managers of Faith Cares, reported:
"It was apparent that the need had grown significantly since the last food parcel distribution on 7 April, as people were already queuing from 07:00. It was heart warming to see the appreciation in the eyes of those served. We do what we do in accordance with Hebrews 13:16: "Do not neglect to do good and to be generous, for God is pleased with such sacrifices"; and with the hope that it would encourage others to also play a role in the upliftment of their local community".
Faith Cares would like to thank the BCMM Security Cluster for their valuable contribution to maintaining law and order, as well as the positive behaviour of the recipients on the day.
If you would like more information, please feel free to contact Ps Kevin Davis, Director of Ministries, on director@riverfamily.com or visit our website on faithcares.myfaith.tv